The septic tank is a separating tank with 2 functions. First is to separate solids from liquids. Septic Tanks digest and breakdown solid wastes, with 40% of the solid wastes being reduced by anaerobic bacteria. The second function is having liquids get to the drain field (trench, bed or seepage pit) where they are absorbed. First, liquids from the house go into the septic tank, then to the distribution box, finally reaching the drain field to be absorbed.
Septic Tanks must be watertight so ground water is not contaminated. Private sewage treatment systems are not designed to handle storm water, just household water. Clear or rain water overloads a system.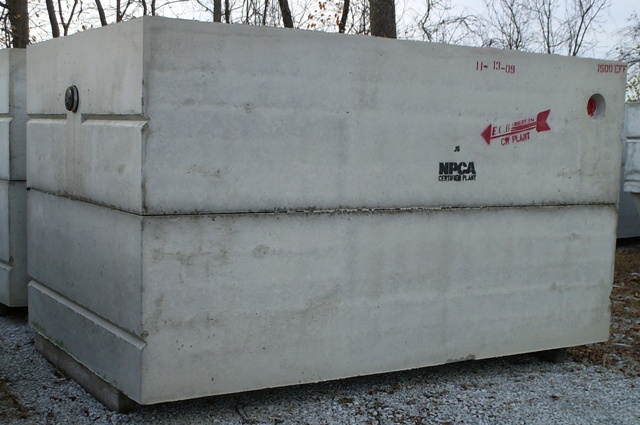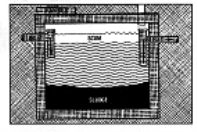 Benefits of a Precast Concrete Septic Tank
Watertight
Proven long life
Durability strength increases with age
Locally produced
Cold or hot weather placement
Will not corrode, rust, or puncture
If you are building a home or purchasing a home with a septic system there are things you should do to ensure you have a trouble-free system. Visit our Building a Home Septic System page or our Purchasing a Home Septic System page for details.
Ensure a Trouble-free Septic System
Proper pumping, cleaning, and disposal of waste will prolong the life of your Septic Tank. Please refer to our Septic System Care page for information or contact our service department.
Office: 614-837-8444
E-mail: service@ecbabbert.com
500 Gallon
1000 Gallon
1500 Gallon Single Compartment
1500 Gallon Double Compartment
2000 Gallon Single Compartment
2000 Gallon Double Compartment
2500 Gallon Single Compartment
(Not normally in stock call for production schedule.)
2500 Gallon Double Compartment
(Not normally in stock call for production schedule.)
3500 Gallon Single Compartment
(Not normally in stock call for production schedule.)
3500 Gallon Double Compartment
(Not normally in stock call for production schedule.)
5000 Gallon
(Not normally in stock call for production schedule.)
Pump Tanks and Dosing Tanks
500 Gallon Pump Tank
1000 Gallon Pump Tank
1500 Gallon Pump Tank
2000 Gallon Dosing Tank