Our Storm and Sanitary Accessories include pipe connectors and installing tools, grade rings, steps, channels, orifice plates, sealants, in-flow dishes, chimney seals, and castings. With NPCA Plant Certification all of our suppliers must meet the same top quality standards we hold ourselves to and therefore all of the materials we provide will meet or exceed the applicable specifications.
Following is a list of our Storm & Sanitary Accessory products. If you need something you don't see here, please contact us.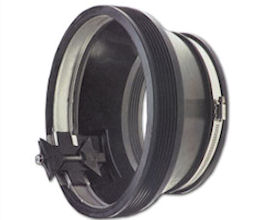 E.C. Babbert, Inc. uses Press Seal Gasket's PSX or PSX Direct Drive boots in most sanitary manholes. The A LOK X CEL flexible pipe-to-manhole connector is used when large diameter concrete pipe is specified.
Grade Rings
E.C. Babbert, Inc. manufacturers precast concrete grade rings to raise your electric manhole's casting to grade. Grade rings are stock items and readily available. 36" ID grade rings are available in 3", 4" & 6" heights. 24" ID Grade Rings are available in 2", 3", 4" & 6" heights.
E.C. Babbert, Inc. uses only the highest quality manhole steps on the market. The steps we provide in our precast structures will either be American Step Company or M.A. Industries manhole steps. Both are made of tough steel rein-forced copolymer propylene.

Invert Channels
Precast invert channels are included with sanitary manholes, unless specified otherwise on the details, and have fully developed benches and flow channels held low. Other styles of flow channels are available.
E.C. Babbert, Inc. offers Cretex Manhole Chimney Seals when the specs require their use.
E.C. Babbert, Inc. offers CON-SEAL CS-102 butyl sealant and Universal Polymer & Rubber LTD O-rings.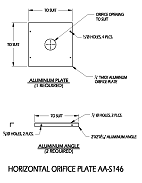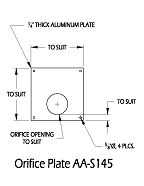 Orifice Plates
E.C. Babbert, Inc. will make orifice plates to suit from 1/4" thick aluminum plate. Orifce plates can be horizontal AA-S146 or vertical AA-S145 styles as seen in City of Columbus Specs. vertical plates can be curved for round structures or provided with bent ears for corner pipe oulets on box structures.
Castings
E.C Babbert, Inc. is proud to offer EJ and Neenah Foundry castings. We can provide any EJ or Neenah Foundry castings you need for your project. We stock several styles. Click here for a normally in our stock.