Semi-annual service inspections, at six month intervals for the first two years of system operation, are provided and included in the original purchase price of the Singulair system. Costs for travel and labor are not charged to the owner. During an inspection, each mechanical aerator, Bio-Kinetic system and other plant components are serviced. After the initial two year service program is completed, continued service is available at the owner's option. The service program should be renewed by the owner to insure maximum system performance.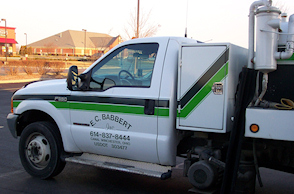 The following services will be performed during each service inspection:
Check aerator operation
Check aerator power consumption
Clean stainless steel aspirator shaft
Clean aspirator tip
Clean fresh air vent in concrete cover
Inspect aeration chamber contents
Check operation of control center
Remove the Bio-Kinetic system
Scrape the clarification chamber
Inspect the Bio-Static sludge return
Inspect outlet coupling
Install a clean Bio-Kinetic system
Inspect effluent quality (If an inspection box is present, not on some older systems.)
Inspect outlet line (If exposed.)
Inspect effluent disposal system
Complete 3-part service record
Hang owner's record on front door
Mail health department notification
Click here for a list of parts and accessories.
For more information please contact Opie Hreha at:
Toll Free: 1-800-438-2880 extension 20
Phone: 614-837-8444 extension 20
E-mail: ohreha@ecbabbert.com
Information on this page is taken from the Norweco Singulairy Owners Manual zMMVII NORWECO, INC.